According to SRK Consulting DRC country manager
Susa Maleba
, the mining landscape in the Democratic Republic of Congo (DRC) is so buoyant, it is  stimulating both exploration and mine expansions. At the same time however, there is growing pressure on mining companies in the DRC to align their  operations with local regulations and global customer expectations. No wonder this year's DRC Mining Week was
also
held on June  1, to June 3, 2022 at the Pullman Grand Karavia Hotel in Lubumbashi, in the the Democratic Republic of the Congo (DRC) or
République démocratique du Congo
(RDC). Informally, the DRC is referred to as Congo-Kinshasa, DR Congo, the DROC, or the Congo, but formerly and also colloquially it was Zaire. The 2022 DRC Mining Week was pumping, literally and everybody who is anybody was there. Her Excellency, H.E Antoinette Nsamba Kalambayi, the DRC's minister of mines opened the event with a strong and confident front. She proceeded to even remaining on site during the three days to attend the women in mining lunch. This was indicative of her ministry's ongoing support for everything DRC Mining Week stands for. Her Excellency was supported by various governors and ambassadors as well. According to
Laura Cornish
of Mining Review Africa, everyone is now in love with the DRC – and it's not hard to see why. This year's DRC Mining Week appeared to have featured a significant presence of women.  Women participation in the mining value chain is indeed a passionate subject in the DRC and the women's lunch demonstrated this, as key female stakeholders shared their experiences together. The event ended on a high – as so many people and business were still networking on the last day, you'd think it was the start of the event, and not the end. It was evident that everyone had been in desperate need to physically connect and do business after the covid-induced hiatus that necessitated a digital event in 2020. There were more than 5,200 visitors, 800 delegates and more than 200 sponsors and exhibitors.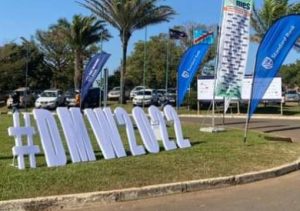 Topics discussed at the 2022 DRC Mining Week included:
Mining operations as a driver of capacity building and inclusion
Showcasing mining solutions and to share best practices from Germany, DRC and France
Technology for small and medium enterprises
Using digitization to optimize the life of electrical equipment
How to unlock ASM Gold from eastern DRC
Integration of programs that are available and offered to women working in the artisanal mining sector
Artisanal mining and financial inclusion
The DRC is by area, the second largest country in Africa (after Algeria), and the 11th-largest in the world. With a population of around 108 million, the Democratic Republic of the Congo is the most populous officially Francophone country in the world. The organizers of the DRC Mining Week promised to meet visitors, delegates, sponsors and exhibitors in mid June 2023,
ceteris paribus
.
[1]