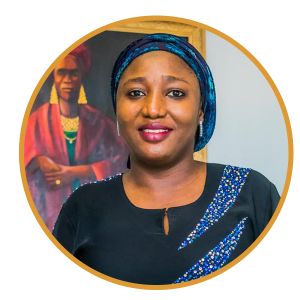 FATIMA IBRAHIM MAIKORE
Principal Geologist
---
Ministry of Mines and Steel Development
---
Fatima Ibrahim Maikore, was appointed in the Ministry of Mines and Steel Development in 2012 as a Geologist. She was posted to Artisanal and Small Scale Mining Department and her schedule was carrying out baseline studies on mining issues such as use of mercury, environment, child labor and gender, Intervention activities to stop further occurrence of lead poisoning that occurred in parts of North Western Nigeria and the provision of extension services to mining cooperatives on mine closure, environment, safety and health.
Fatima was promoted to the post of Senior Geologist in 2016 and was redeployed to the Mines Inspectorate Department and works in the Explosives Unit. Fatima travelled many countries on official assignment. She attended a short course on Managing Mine Closures in Australia and South Africa in 2016 and Local Economics and Socila Development in Extractives in 2018.
Fatima is a Fellow of Nigeria Institute of Management Consultants, a Member of Nigerian Mining and Geoscience Society, Member of Council of Mining Engineers and Geoscientists, Member of Austalia Alumni Association of Nigeria,  and Member of Association of Mine Closure Ambassadors. Fatima facilitated the registration of the Association of Mine Closure Ambassadors (AMCA) during the Managing Mine Closure Short course (AMCA) founded on November 23, 2016 in Potchefstroom-South Africa. This non-profit organization comprises 25 member Ambassadors from 14 sub-Saharan African countries (Cote D'Ivoire, Cameroon, Ghana, Guinea, Lesotho, Liberia, Malawi, Niger, Nigeria, Madagascar, Kenya, Tanzania, South Africa and Zambia), including Environmentalists, Mining Engineers, Geologists. and Mine Inspectors. The  organization was later registered on the 21st of August 2017 in Abuja with the objective of promoting reclamation of land and watercourses to an acceptable standard of productive use and promote research to identify challenges in order to propose solutions through promoting good leadership in managing Mine Closure across Africa. They have been granted a small grant funding through the Australia Awards Africa Small Grant Scheme in January 2018 for the project title "Strengthening the implementation of Internationally acceptable Mine Closure Best Practices in pursuit of Sustainable Mining in Africa" to be carried out in Cameroon by the Cameroon Ambassadors.
She was elected as the Financial Secretary of Australia Alumni Association of Nigeria (AAAN) and the Treasurer of Association of Mine Closure Ambassadors. Fatima is a member of Women In Leadership and Women in Mining Nigeria.
An Alumna of the Blavatnik School of Government, Oxford University, in the United Kingdom, she completed the Natural Resource Management Executive Course in Oil, Gas and Mining in 2019.
Fatima holds a Bachelor's degree in Geology from the University of Maiduguri, a Post-Graduate Diploma in Applied Geosciences at the Laser Petroleum and Geosciences Centre Port Harcourt, a Post-Graduate Diploma in Environmental Resource Management from the Nasarawa State University and a National Diploma Certificate in Mineral and Petroleum Resources Engineering from the Kaduna State Polytechnic.
Fatima contributes articles on developments in the extractive sector for the Nigerian online Newspaper Premium Times.
https://opinion.premiumtimesng.com/2018/02/25/towards-sustainable-mining-development-in-africa-by-fatima-ibrahim-maikore/
https://opinion.premiumtimesng.com/2017/08/15/geologists-insurgency-and-the-way-forward-by-fatima-ibrahim-maikore/
https://opinion.premiumtimesng.com/2017/01/09/176497/
The exposure visits to mining sites in Australia and Madagascar made Fatima aware of the disconnection between mining policies and practice in Nigeria. She learnt the importance of soft skills in promoting the policy implementation, particularly related to grassroots sensitization that brings policy to the level of its intended beneficiaries and also the knowledge of addressing poverty in rural mines host communities through mining value chain development and local content and economic integration
She enjoys reading and continues to be actively involved in environmental issues and projects that directly impact on the lives of citizens.